The history of the manufactory
The Bladed Weapons Manufactory of Klingenthal
1730 – 1836
Colbert's economic and industrial policy leads to the establishment of the Royal Manufactories in various industrial sectors. The letters patent granted by the king conferred a title and a number of privileges on them.
Until the beginning of the 17th century, there were no manufactories in France that forged blades for cutting and thrusting weapons. The French sword sweepers imported most of their blade supply from Solingen (Westphalia).
Louis XV decided to change this. The Secretary of State for War and former Intendant of Alsace, Nicolas Prosper Bauyn d'Angervilliers, was commissioned to establish a bladed weapons manufactory in the Kingdom of France so that he would no longer be dependent on Solingen for the supply of weapons.
On 15 July 1730, the King issued letters of patent "for the establishment of a royal bladed weapons manufactory in Alsace, for a period of 30 years in the service of the royal troops" to Henri Anthès, who operated and managed various forges in Upper Alsace (today's Haut-Rhin) and to whom the choice of location and the establishment of the facility fell. He chose the Ehn valley above Obernai for several reasons:
Presence of the stream that provides the necessary water power to run the factories.
an uninhabited valley allowing the construction of all the facilities needed for the manufactory.
Numerous forests for the construction of the buildings and the production of charcoal.
Sandstone quarries for the construction of the buildings and the production of grinding stones.
Easier transport of raw materials via Strasbourg and proximity to the Strasbourg Arsenal for the distribution of weapons.
common Alsatian dialect, which enabled the first workers who came from Solingen to integrate and pass on their knowledge.
The manufacturing methods originating in Solingen and constantly improved, as well as an exemplary control system, have given Klingenthal blades a remarkable reputation.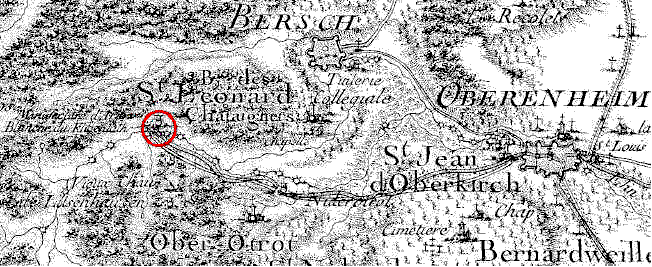 The manufactory for scythes and sickles
1838 – 1962
The scythe and sickle manufactory in Klingenthal existed until 1836, when production was transferred to the manufactory in Châtellerault, which was founded by royal decree on 14 July 1819. In Klingenthal, the state manufactory was replaced by a private company run by the Coulaux family.
From 1840 Klingenthal produced scythes and sickles and supplied the whole of France with regionally specific models as well as numerous countries in Europe and America.
The expertise in cutting and stabbing weapons is not lost and orders are again placed for the government. In addition to the sabres for officers, the Coulaux company also produces the sabre bayonets for the Chassepot rifles, which are produced in the Coulaux factories in Mutzig.
On 1 February 1962, the workshops of the Coulaux & Compagnie company are finally closed as they have not found a new outlet for the manufacture.